CHEMICAL
MANAGEMENT
Chemical and dyes are an integral part of the textile value chain. Some of the processes involve intensive use of chemicals during its manufacturing process. Due to the hazardous nature of some of these chemicals used, adverse impacts are possible in the work environment, water bodies receiving effluents and end-users due to residual chemicals. At Aditya Birla Textiles, we aim to deliver healthy products to our consumers with minimized environmental footprint during its production. Our chemical management forms an essential element during product design, safe operations, safe effluents disposal, & no residue in the product for use. We strategize our management of chemicals to achieve a reduction in toxicity.
To address these challenges, we adopted Manufacturing Restricted Substances List (MRSL) of Zero Discharge of Hazardous Chemicals program as a mechanism to address and reduce the use of hazardous chemicals at the beginning of the manufacturing and production process, as opposed to at the end. We manage chemicals through our IMS, following ISO standards and REACH requirements. Any known/identified toxic, harmful and bioaccumulative chemicals and substances are avoided. We regularly train and update our employees on effective chemical management. We continuously conduct an assessment of chemical inventory and chemical management procedures at all the units and measure our compliance with international chemical legislation.
We evaluate the chemicals suppliers' compliance concerning binding certificates and as per law. A scorecard for every dyestuff and chemical used within our units has been developed and assessed against the chemical supplier and rated chemicals for compliance with the above requirements.
During the FY 2019-20, we conducted Zero Toxicity Action Plan, in which we assigned responsibility to all the units, to recreate process flow where chemicals are used and prepare its impact. We conducted training of all the employees, on Chemical related document management, Preparations of chemical safety norms, transportation and hazard tracking log and reassured ourselves on our chemical management for compliance. We conducted stage-wise inventory mapping for chemicals. We also assessed our suppliers on their uses of toxic materials. During the plan or activity, projects have been identified for cost savings in chemicals. We also did an external assessment of the chemical management system.
Zero Toxicity Plan
The textile industry's primary concern is the quantity of effluent generated and the high chemical load it contains. For the zero toxicity plan to be successful for us, we assess, audit and report on these parameters: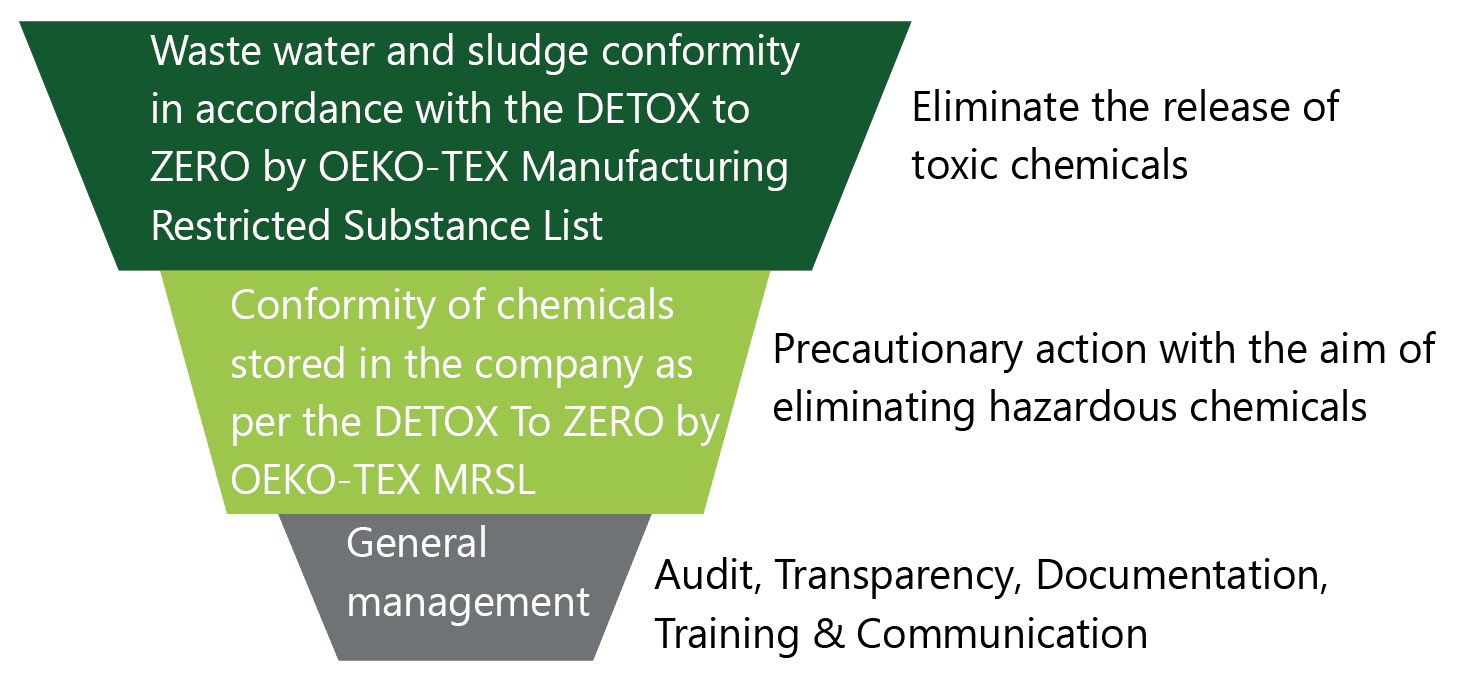 We also comply with product health and regulatory safety requirements in almost all countries of our exports and showcase our global good practice of product stewardship. During the reporting year, there were no significant Spillage in our operations.