HR TRAINING MODULE: DOMESTIC TEXTILES
In FY2019-20, the following training topics were selected for management and workers at Jaya Shree Textiles:
MANAGEMENT
Risk Analysis and Decision Making
•To develop a culture of responsiveness

Leading Change – Together
•To develop the ability to challenge status quo and thus ushering-in agility
•To develop a collaborative culture

Managing Customer Expectations
•To shift the focus from 'Make to Stock' (MOS) to 'Make to Order' (MTO)

Dil ki Baat
•To make customer centricity a way of life

General Management Skills - JST & VW
•To develop/ hone general management skills

SA 8000:2014
•Changes in new version, social performance team and their roles and responsibilities, social fingerprint, identification of stakeholders, risk management and risk mitigation
WORKMEN
• Culture Change, Alignment & Business Awareness
• General awareness
• Self-awareness – insights and barriers
• Attitude and behavior
• Work ethics and spiritual foundation for work
• Inner conflicts, balancing – roles and goals
• Nature and types of costs in Industries
• Different cost control/mechanisms

Apart from the abovementioned training modules, we conduct regular safety training for employees, workmen and contractors. Furthermore, we conduct business excellence training, sales training, follow-up sessions and online trainings. We also provide on-the-job training and safety induction training for new employees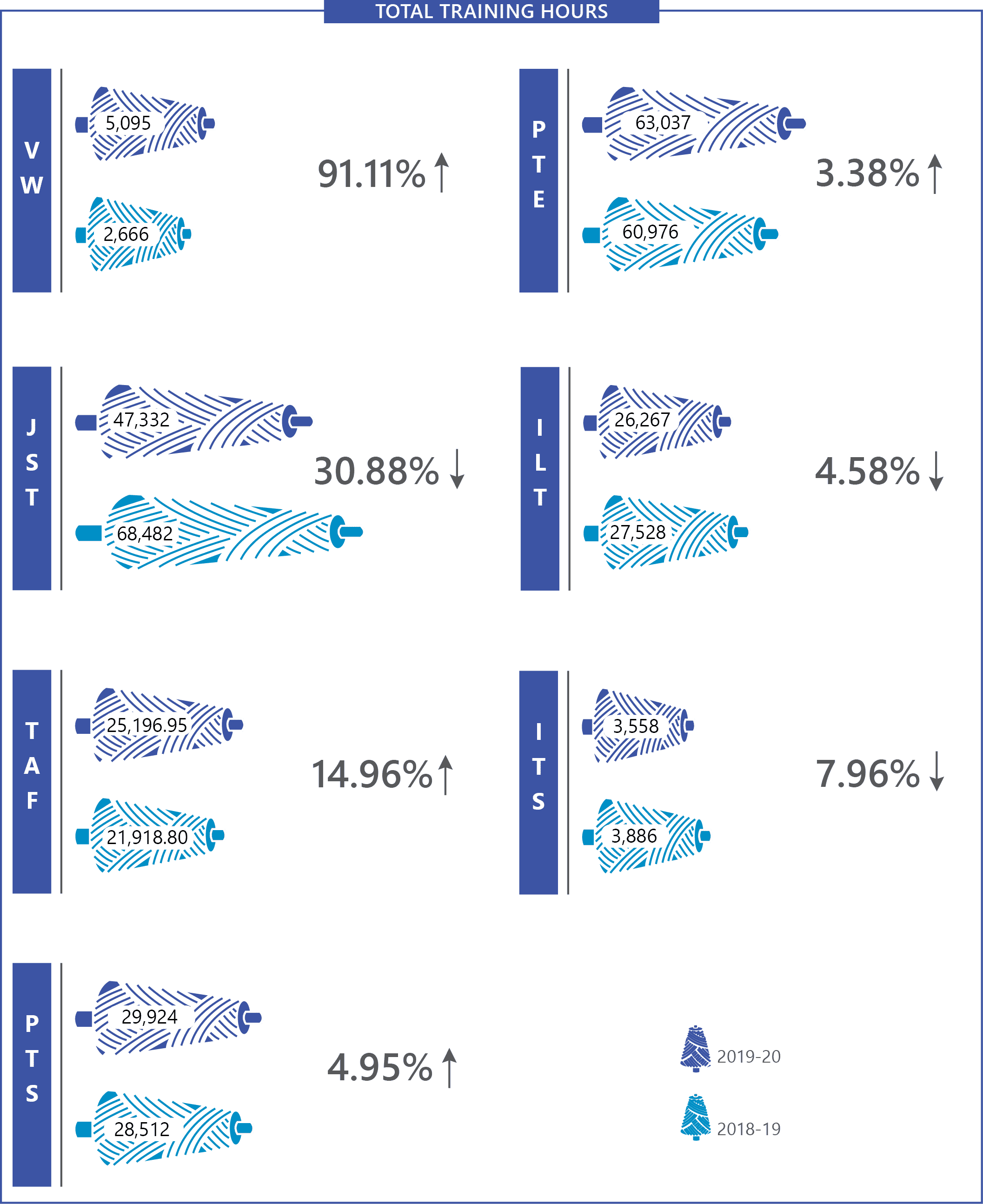 As Linen Spinning plant IV was going through optimisation post its commissioning in FY 2017-18, all the newly joined workforce were trained on different work systems & safety practices in FY2018-19. There was a reduction of 4% at ILT, 46% at ITS and 30% at JST, while rest of the unit saw increase in the total training hours. VW training hours grew by 90% while that of TAF, PTS, and PTE grew by 15%, 5% and 3% respectively.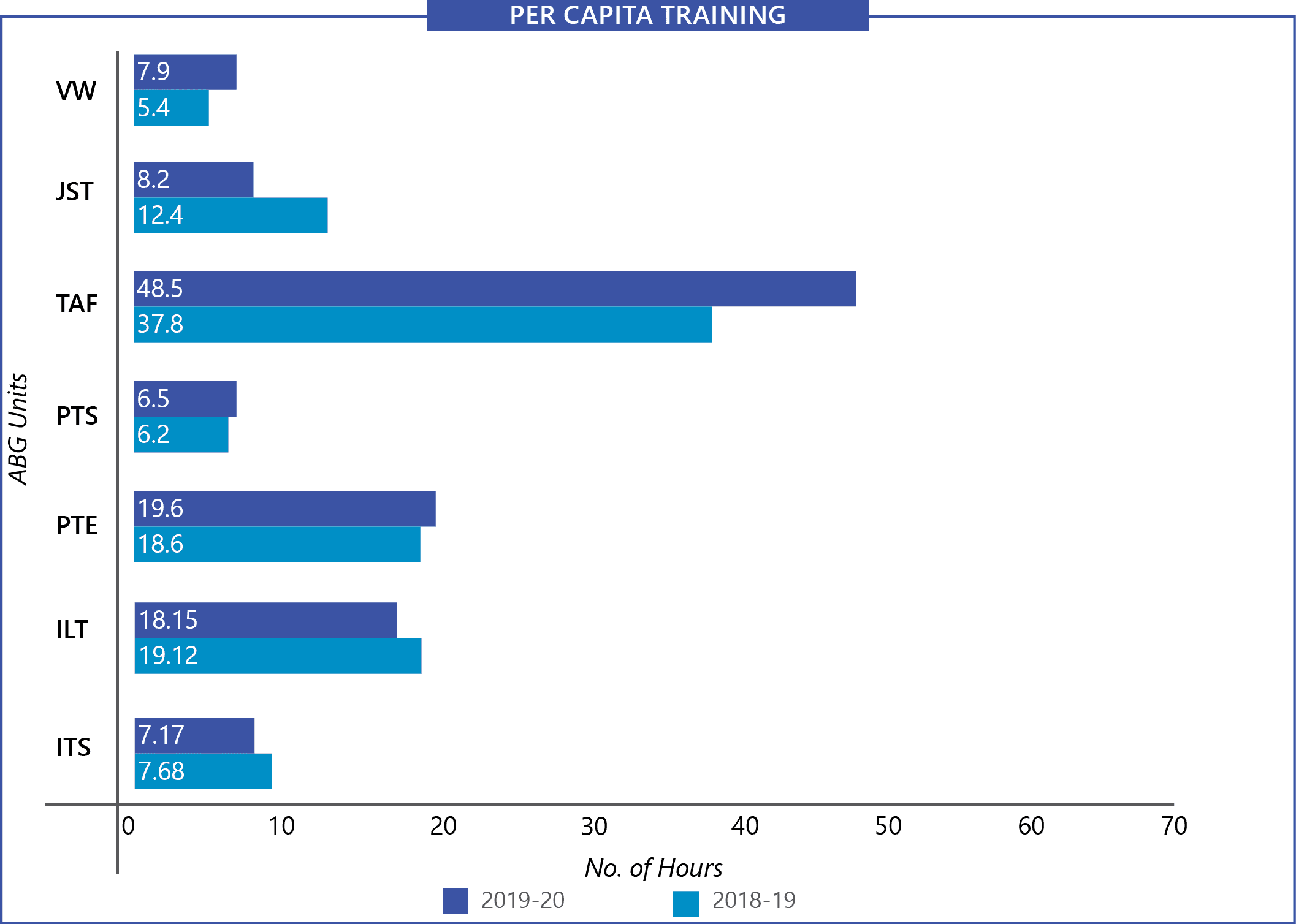 During the FY 2019-20, PTE, PTS, TAF, VW and ILT increased there per capital training hours. TAF per capita training hours increased by 28%, while that of other units there were increase in single digit.
TRAINING HOURS PER CAPITA (BY GENDER)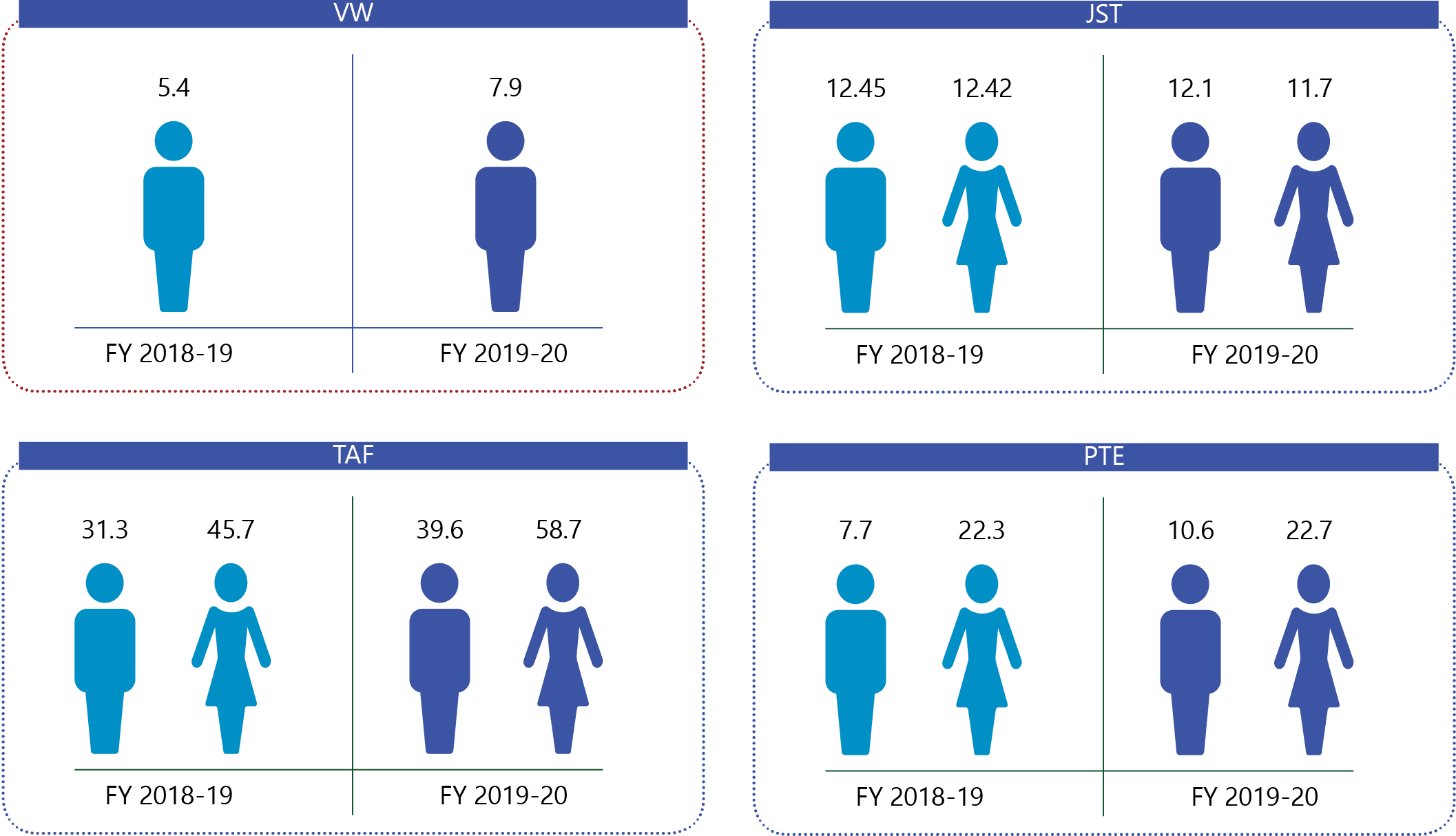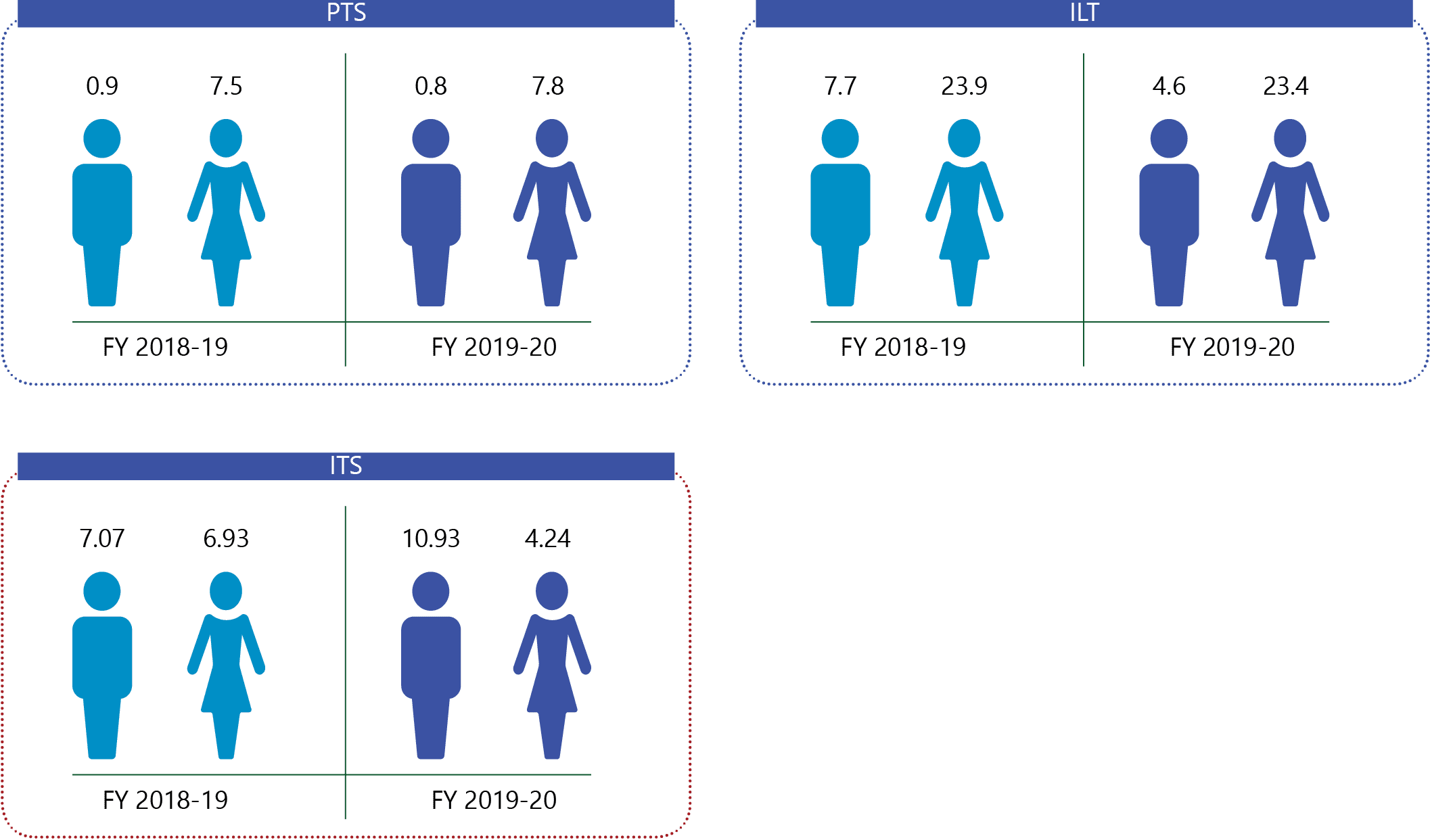 EMPLOYEE MOTIVATION AND EMPOWERMENT
We endeavour to increase our employee satisfaction, motivation and empower them to deliver performance and productivity. We reward our employees in recognition of their contributions through various means to continuously and effectively motivate them.
In addition, we have 7 formal communication forums between our senior management and employees to increase employee engagement: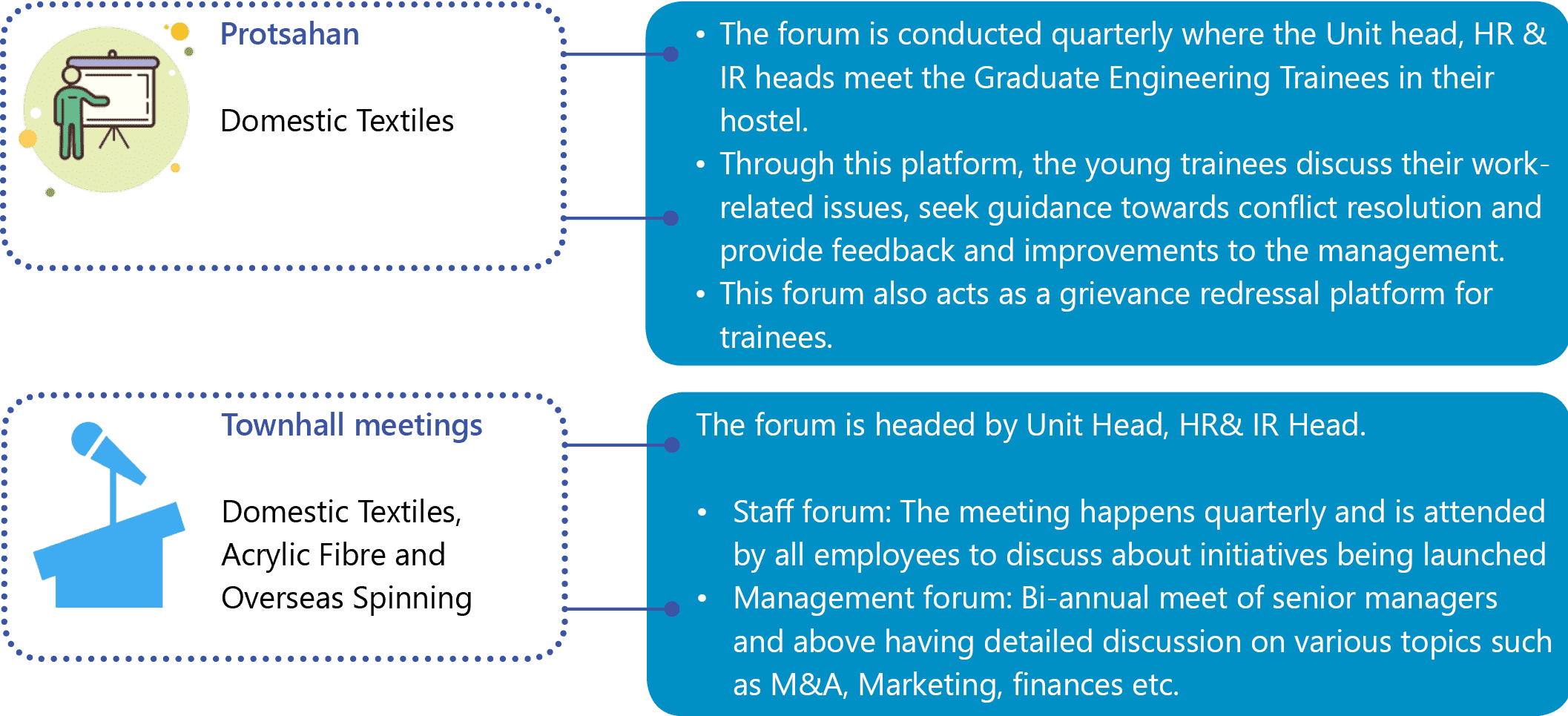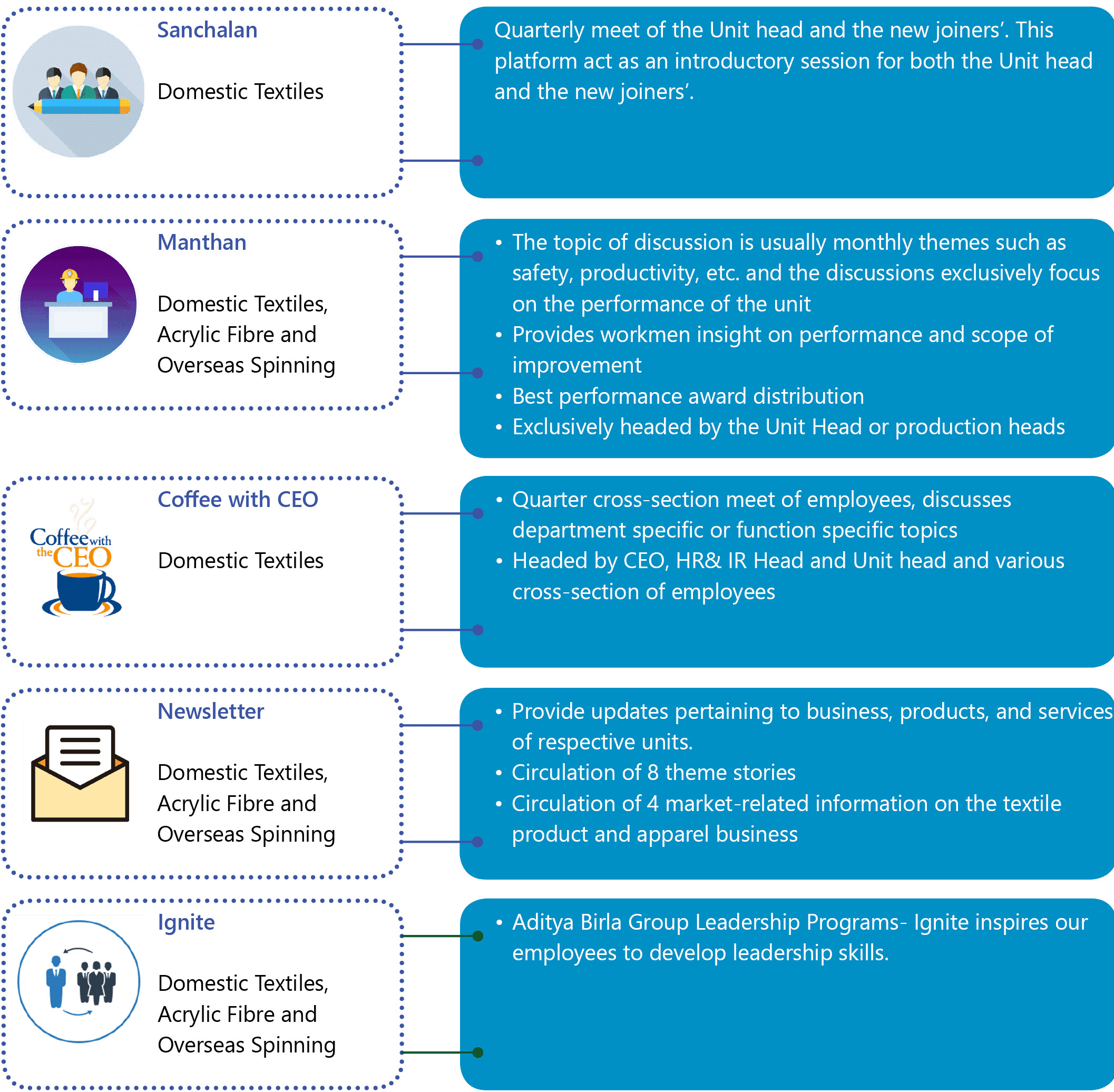 We organized numerous employee engagement activities, including festival celebrations, competitions and plantation day. We also have several platforms where innovative thinking is encouraged, including internal competitions such as: