ABOUT Aditya birla

group
ADITYA BIRLA GROUP
A US$ 48.3 billion corporation, the Aditya Birla Group (ABG) is in the League of Fortune 500, anchored by an extraordinary force of over 120,000 employees, belonging to 42 nationalities. Over 50 per cent of its revenue flows from its overseas operations spanning 36 countries.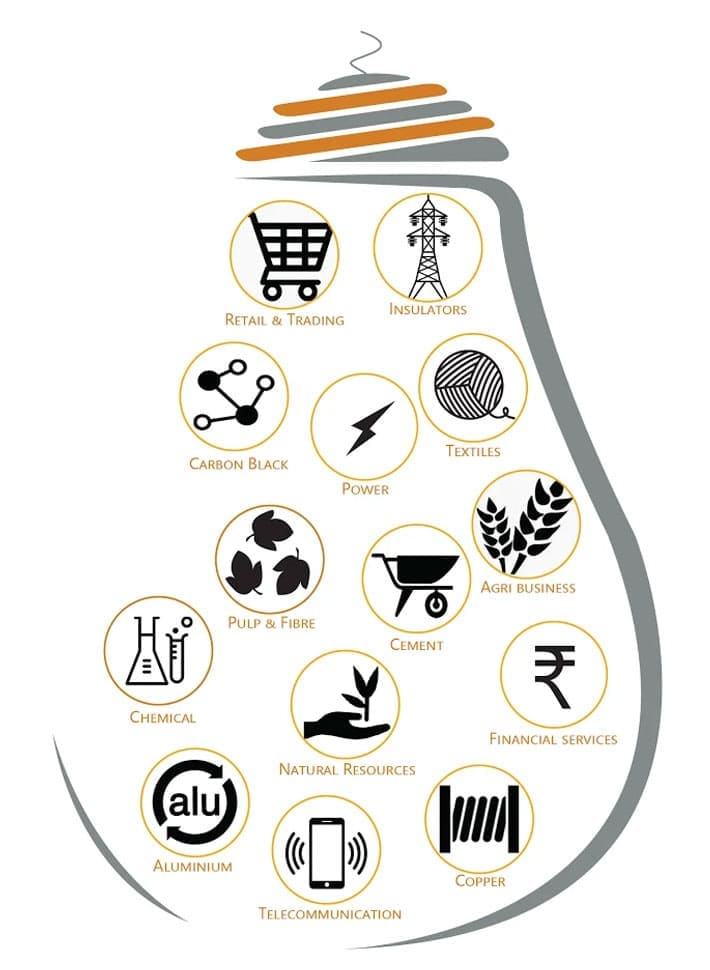 TEXTILES BUSINEss
Aditya Birla textiles is a part of the Aditya Birla Group (ABG). Aditya Birla Textiles businesses are a voluntary coalition of its textile units which comprises of Domestic Textiles, Acrylic Fibre and Overseas Spinning. The manufacturing facilities are present in India, Indonesia, Germany, Spain and Thailand with market presence across the globe.
DOMESTIC TEXTILES (DT)
The Domestic Textile business comprises of a flagship business of Aditya Birla Group, Jaya Shree textiles (JST) and Vikram Woolens (VW). JST and VW are the units of Grasim Industries Limited. Grasim Industries Limited is a company incorporated and domiciled in India and ranks amongst the top publicly listed companies. Today, it has evolved into a leading diversified player with a leadership presence across many sectors. It is a flagship company of the Aditya Birla Group. Grasim is engaged primarily in Viscose (Pulp, Fibre and Yarn), Chemicals (Caustic Soda, Epoxy and allied Chemicals), Fertilisers, Insulators, Textiles and other businesses. At Grasim, there is an endeavour to create sustainable value for 24,123+ employees, 2,33,934 shareholders, society and customers. It has a consolidated net revenue of over ₹77,625 Crore and an EBITDA of over ₹13,846 Crore in FY 2020.
JAYA SHREE TEXTILES
Jaya Shree Textiles (JST), a unit of Grasim Industries Limited, is a part of the Domestic Textiles Business. It was incorporated in 1949 and has its only manufacturing unit at Rishra in Hooghly district, West Bengal, India. It is the first integrated Linen factory in the country with state-of-the-art facilities equipped with the latest spinning, weaving and finishing systems from Switzerland and Italy. JST has provided the evolving Indian fashion industry with an international edge with its product portfolio containing 100 per cent pure linen flax sourced from France and Belgium. JST is the pioneer in creating awareness about Linen and Linen attributes in India with the launch of "Linen Club" brand in India. The awareness created among Indian consumers helped national apparel brands to include and promote linen in their portfolio.
A leading player in the domestic linen and worsted yarn segment, the company has significantly revolutionized the Indian textile market by popularizing linen in India across a wide customer base with its brand "Linen Club". Over the years, JST has become a preferred Textile company for Wool Tops, 100% Wool & Wool Blended Yarns- both for Weaving & Knitting, Pure Linen Yarn, Pure Linen Fabrics, Linen Blended Fabrics and pure linen and blended apparels.
Retail Stores
Linen Club is the pioneer linen brand in India with over six decades of experience. Linen Club enjoys leadership status in the Indian market and is a brand of choice for linen connoisseurs across India. Linen Club has Readyto-Wear garments and accessories under the brand "Linen Club" and "Linen Club Studio". The linen club has an extensive range of 200 exclusive brand outlets, also a wide conglomerate of 6800 multi brand outlets for showcasing and selling finely crafted products. The entire Linen range includes extensive product line Viz. shirts, Trousers, Jackets, kurtas, T-shirts & accessories
VIKRAM WOOLENS
Vikram Woollens (VW), a unit of Grasim Industries Ltd was established in 1995 and has its manufacturing unit at Malanpur in Bhind district, Madhya Pradesh, India. Vikram Woollens (VW) is the wool processing unit and a prominent player in the worsted segment of the textile industry. It has recorded robust growth in the Indian textile market across a wide customer base. VW operates exclusively in the wool segment, manufacturing worsted yarn.
ACRYLIC FIBRE (AF)
Thai Acrylic Fibre Co. Ltd (TAF), an Aditya Birla Group company, is among the world's top 5 quality acrylic fibre producers.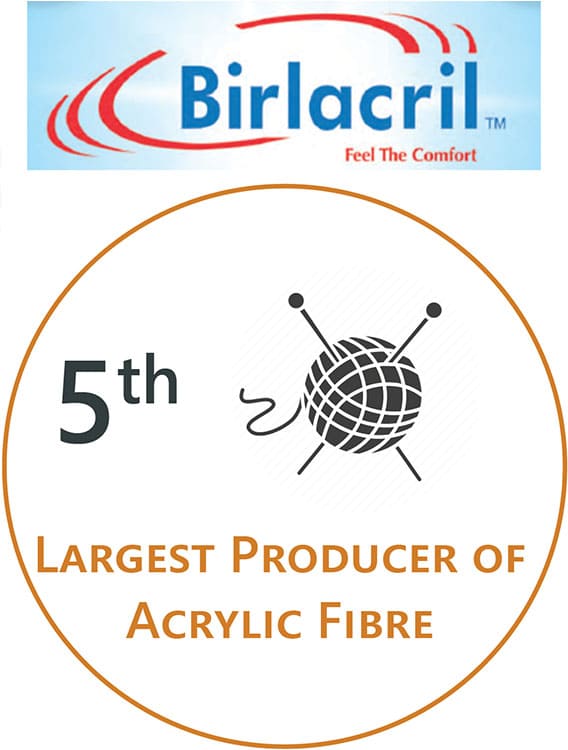 THAI ACRYLIC FIBRE
Incorporated in 1987, TAF produces more than 30 different types of speciality fibres including technical fibres for high-end applications. It has a production capacity of 120,000 MT/year. With over 30 different varieties of acrylic fibre, we serve both the commodity and the specialty high-end markets. The product range comprises a variety of acrylic fibres used for making sweaters, blankets, carpets, upholstery, soft toys and awnings, etc. Our products enjoy worldwide recognition. The products are sold in more than 40 countries covering all continents. Our final products are marketed by a number of prestigious brands in Europe and America.
Thai Acrylic Fibre plant is also one of the greenest, cleanest and most environment-friendly acrylic fibre plants in the world. From an installed capacity of 14,000 TPA (Tonnes Per Annum), the company has grown consistently to reach 120,000 TPA.
Marketed under the `BirlacrilTM' brand, the product the range comprises a variety of acrylic fibres used for making sweaters, jogging suits, socks, stuffed toys, blankets, carpets and upholstery. . We also have a range of differentiated branded products focused on various end uses like Outdoor technical fabrics, anti-microbial apparel, carpets & home-textiles, premium no pilling sweaters, functional innerwear etc. We sell our fibres to customers in over 40 countries and market our products across the textile and apparel value chain.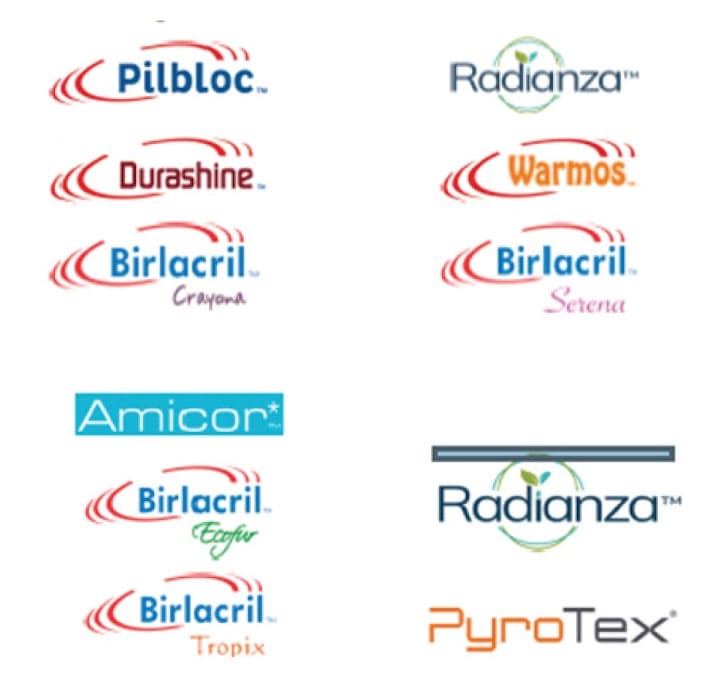 OVERSEAS SPINNING (OS)
Our products are synonymous with quality, consistency and assurance. We are covering 4 entities and 4 manufacturing plants, in two countries – Indonesia and Thailand with an annual production capacity of 170,000 MT. We have been continually upgrading our manufacturing facilities by investing in cutting-edge technology and best in class machines across all the manufacturing setups. Our combined capacity is around 500,000 Equivalent ring spindles.

Aditya Birla Yarn (ABY™)
Aditya Birla Yarn (ABY™) is the brand of yarn manufactured and marketed by OS of Aditya Birla Textiles. ABYTM yarns consist of classical, specialty, performance, sustainable and other iconic yarns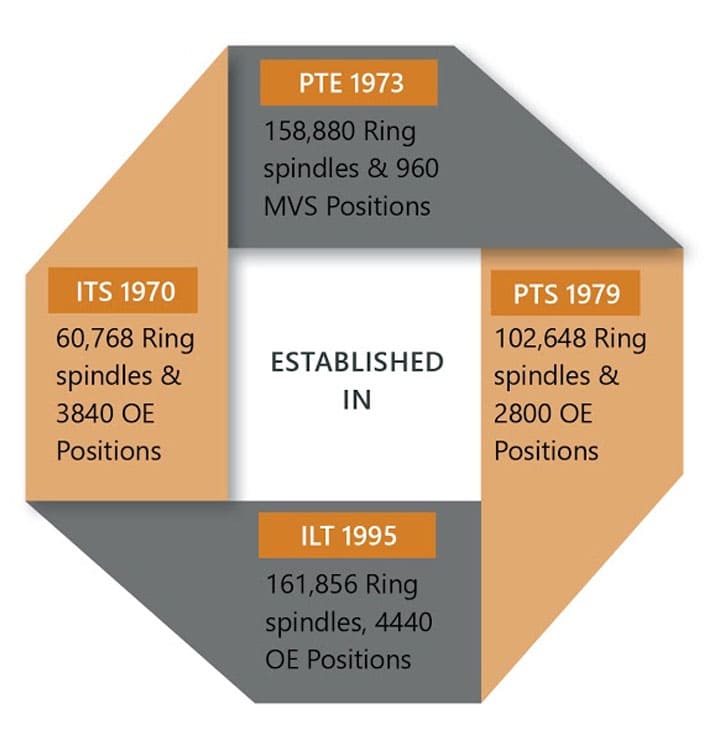 PT SUNRISE BUMI TEXTILES
PT Sunrise Bumi is among one of ABG's yarn manufacturing plant located in Bekasi, Indonesia. Established in the year 1979, we have increased the capacity from 17,280 spindles to 102,648 spindles and 2,800 open-end rotors. Engaged in continuous innovation and improvements across manufacturing plants for supplying best in class, quality and customized yarn, we serve the needs of our clients around the world. We are catering to ABYTM's three major segments, namely, fashion and apparel accommodating 65-70% share of total capacity, home textiles 15-20% share of total capacity and technical textiles 10-20% share of total capacity.
PT ELEGANT TEXTILE INDUSTRY
PT. Elegant Textiles marked the Group's foray into Indonesia in 1973. PTE currently having a production capacity of 158,880 spindles in addition to the latest Vortex spinning technology with 960 MVS Positions, is the world's largest producer of rayon spun yarn, contributes to 10% of the global rayon spun yarn trade. PTE is the largest exporter of rayon and rayon-polyester spun yarn with a market share of 20-30% from Indonesia. About 70-80% of its products are exported to customers in the US, Turkey, Korea, Japan, Italy, Greece, Spain, Brazil, Argentina and other locations in Europe and the Asia Pacific region. Nearly half of PT. Elegant's production caters to niche segments, such as high-quality fabrics for medical applications, car seat covers, upholstery and fancy yarn production among other uses.
PT INDO LIBERTY TEXTILES
PT Indo Liberty is among one of ABG's yarn manufacturing plant located in Karawang, Indonesia. Established in 1995 with 21,120 Spindles, the facility is equipped with 161,856 Spindles and 4,440 Open End Rotors. We serve the needs of our clients around the world and supply the best quality of customized yarn by engaging in continuous innovation and improvement in manufacturing plant.
INDO THAI SYNTHETICS
The first overseas venture of the Group, Indo Thai Synthetics commenced operations in 1970 with a capacity of 12,768 spindles. Today, it is Thailand's leading synthetic yarn spinner and the largest exporter of synthetic yarn from Thailand with a 50 per cent share in the total synthetic spun yarn exports from Thailand. The current capacity has grown to 60,768 Ring Spindles and 3,840 Open End Spinning positions.